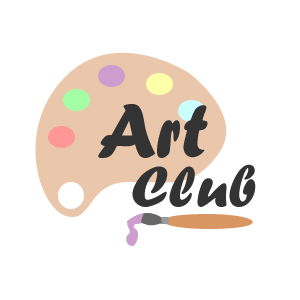 The Art Club was founded in September 2012 by Rapunzel (Tangled) & Ikki (Legend of Korra)! The club meets the second Sunday of every month, with occasional "emergency" meetings when requests come for help with decorations for parties and/or the club heads come up with something fun to do. Meetings aren't mandatory for members, but if anyone misses a meeting they can shortly expect Ikki to check up on them.
All Art Club members now have badges, made in their second meeting; any new members get to make their own badges during their first meeting in addition to whatever else the club has going on. Club members are also encouraged to submit artwork to Miss Pepper Potts' (MCU) art gallery!
All meetings have some sort of refreshments, usually themed with holidays or seasons. There is usually a themed main project, but members are allowed and encouraged to bring their own art projects to work on if they prefer.
Current Members
Edit
Ikki (Legend of Korra) - Co-founder, Co-president
Raven (Rune Factory 3) - Co-preseident
Konan (Naruto)
Steve Rogers (MCU)
Aang (Avatar: The Last Airbender)
Florian (Tales of the Abyss)
Jeb (Original Character)
Ventus (Kingdom Hearts)
Grune (Tales of Legendia)
Emil (Tales of Symphonia: Dawn of the New World)
Raine (Tales of Symphonia)
Billy (Marvel Comics)
Loki (MCU)
Rudy (Wild ARMs Alter Code: F)
Jack (Pandora Hearts)
Rock Lee (Naruto)
Okita Souji (Peacemaker Kurogane)
Nagato (Naruto)
Furea (AKB0048)
Former Members
Edit
Peeta (The Hunger Games)
Noel (Blazblue)
Pao-Lin (Tiger & Bunny)
Madoka (Puella Magi Madoka Magica)
Miyabi (Okami)
Yotsuba (Yotsuba&!)
Vanellope Von Schweetz (Wreck-It Ralph)
Rydia (Final Fantasy IV)
Luce (OC)
Hermes (OC)
Sora (Kingdom Hearts)
Rapunzel (Tangled) - Co-founder
Marco (One Piece)
2012:
2013:
January 13th Paper mache projects!
February 10th Valentine's day cards!
March 10th Learned about the Wonders of Clay!
April 14th Made mugs, whee pottery!
May 12th Posters for the Cultural Fair are made + last time's mugs are decorated. Also decorated pool balls commissioned by Buffy Summers.
June 9th Origami lessons by Konan!
July 14th More origami, obviously. Also paper lanterns.
August 11th Beaded friendship bracelets.
September 8th How to press & preserve leaves and flowers.
October 13th Halloween cards/Jack-o'-lantern carving.
November 10th Hand turkeys once again.
December 8th Ornament making!
2014:
January 12th Watercolors.
February 9th ??? In the works.