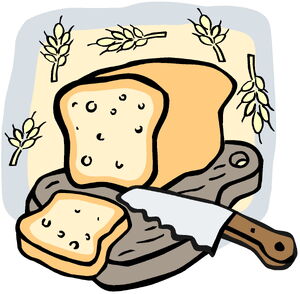 The bakery has been around for some time, and was most recently (circa Novemer 2012) run by Peeta Mellark (The Hunger Games) before passing into the ownership of his employee, Rapunzel (Tangled) upon his leaving Luceti.
Employees
Edit
Rapunzel (Tangled) - OWNER
Katniss requested that the sign Peeta made stay with the change in ownership, and Rapunzel agreed.
"

The wood of the bakery's new sign is slightly stained with leftover coffee, giving it a lovely rich brown color. With the shellac finish, it will be practically weatherproof. Such a luxury would have been expensive beyond belief back in District 12, even for a baker's family.
The sign could be considered quaint, but falls short of being trite. The border is done with a fine brush in grass greens; a winding vine with yellow flowers. At the bottom, a pile of bread loaves. One is the sort of loaf 12 was famous for back home, a sort of drop biscuit. Another is the seeded loaf of District 11. Accompanying them are two cheese buns, as well as an assortment of cakes, cookies, and tarts, all of which are actually offered inside the bakery. It has a provincial look to it, natural and fresh, as if even on a rainy day one could find the sun and hot bread inside this building.
The word "BAKERY" is in the palest of blues, with a slightly darker blue shading the letters." -victorbychance